Gibson Sheat Political Series | Pre Budget Speech, Nicola Willis, National Party Deputy Leader, Opposition Spokesperson for Finance.
No events to show
Description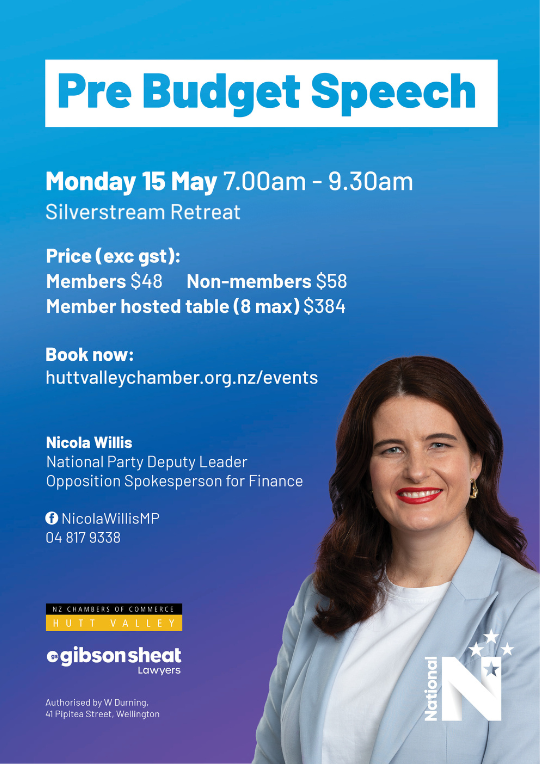 Hutt Valley Chamber in Partnership with Platinum Partner Gibson Sheat Lawyers invite you to join us for our third political series event of 2023.
Nicola Willis, National Party Deputy Leader and spokesperson for Finance will address our business community ahead of budget day 2023 on the 18th May.
Nicola will address how National's policy commitments would help with the current challenges facing business and what the budget under National would look like.

Hear how National would propose to tackle rising Inflation, costs of good & services, interest rates and exchange rates among other challenges such as labour shortages and immigration settings.
Additional information
Nicola Willis MP is currently National's Deputy Leader and Spokesperson for Finance and Social Investment.
She entered Parliament in 2018, prior to this Nicola held a number of Senior Management Roles at Fonterra.
Her work at Fonterra included leadership of the Business's global trade strategy as well as serving on the boards of Export NZ and the New Zealand Initiative.
As a proud graduate of Victoria University, after growing up in Wellington she is now raising her family here in the capital
Event Information
WHEN Monday 15th May 07.00am - 09.00am
WHERE Silverstream Retreat, Boardwalk, 3 Reynolds Bach Drive, Stokes Valley, Lower Hutt 5019
COST Members $48 + GST
Members hosted table (8Pax) $384+ GST
Non Members $58.00 + GST
Presented By